Welcome to Wakon!
For over 53 years, Marlene Ross has bred the biggest and best GIANT ALASKAN MALAMUTES on her beautiful mountain ranch in Darrington, WA. Giant Alaskan Malamute puppies always available!

Dear Alaskan Malamute enthusiants, thank you for your interest in a Giant Alaskan Malamute. I have become aware of another breeder using the Wakon name without my permission or authorization of any kind. I want you to know that Marlene Ross has no affiliation or association of any kind with such person or their stock! If you are interested in the purest, true M'Loot Giant Alaskan Malamute please call Marlene at Wakon Giant Alaskan Malamutes 1-(360)-436-1904.

Remember, it isn't a WAKON Giant Alaskan Malamute, if it doesn't come from Marlene Ross and Wakon!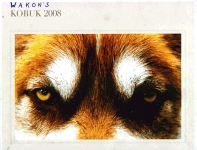 Eyes of WAKON
If you are interested in a WAKON Giant Alaskan Malamute puppy, teenager, adult, please call Marlene Ross at (360)-436-1904 in the early morning Pacific Coast Time (6:30AM to 11:00AM). There is no computer at Wakon; Marlene cannot reply by email, but she enjoys talking to you personally about her magnificent malamutes.